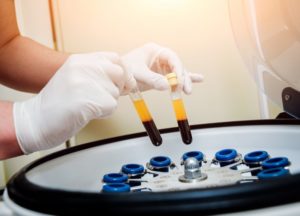 On paper, PRP sounds like a medical miracle. "You mean you can use a small sample of my own blood to create this extremely effective healing substance?" Yes, that's pretty much how it works! But what exactly is PRP used for, and what conditions is it commonly recommended to treat? Can your problem and pain be fixed with the help of PRP?
How Does PRP Work?
The science behind PRP is very well established thanks to countless research studies that show it leading to positive results again and again. How does it help the body once it's injected?
Compared to regular blood, PRP contains a much higher concentration of platelets as well as healing proteins and several other growth factors. Essentially, it gives the body the fuel it needs to heal right where it needs it. It has been shown to trigger the growth of new tissues, reduce inflammation, and even prevent the degeneration of healthy tissues.
Conditions That Can Be Treated with PRP
In general, PRP is recommended for patients dealing with sports injuries and painful musculoskeletal conditions, but it is also a key ingredient in certain aesthetic treatments like skin rejuvenation and hair restoration.
Both in research and clinics around the world, PRP has been used to successfully treat:
Osteoarthritis (OA)
Tendon injuries/tendinitis (not complete tears)
Ligament injuries (not complete tears)
Rotator cuff damage
Tennis/Golfer's Elbow
Back pain
Neck Pain
Plantar fasciitis
For a mild injury (like moderate tendon or ligament damage), a patient might just need one PRP treatment to make a huge difference when it comes to their pain and function. But for more extensive or long-term problems, like back pain, a patient might require three injections given a month apart to see the best results.
Is PRP Right for You?
If you're interested in getting regenerative medicine, be sure to visit a clinic that not only has experience providing PRP, but other similar treatments, like prolotherapy/Prolozone and stem cell therapy. This way, you can weigh the benefits of PRP against other treatments that have the same basic goal, which is to stimulate and increase your body's natural ability to heal. By having a conversation with your doctor and discussing your goals, they'll be able to recommend which type of care will be best for your body, your mind, and your budget.
About the Author
Dr. Paul Tortland has been a leading figure in the field of regenerative medicine for decades. As a double board-certified physician (regenerative medicine and sports medicine), he has literally helped thousands of athletes and everyday patients benefit from PRP and other cutting-edge procedures. Here at the New England Stem Cell Institute, you can learn more about your options and get a care plan from Dr. Tortland just by scheduling a consultation today.