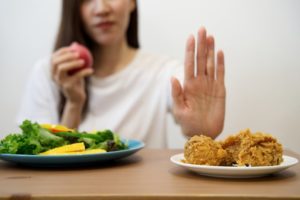 Osteoarthritis involves a gradual loss of joint cartilage, leading to more friction between the bones that creates inflammation in the adjacent muscles, tendons, and ligaments. This is the root source of the pain and stiffness associated with the condition. There are several ways a person can lessen inflammation throughout their body to make their OA easier to manage, and one of the simplest is slightly adjusting the diet. By avoiding the following 3 foods, a person can help themselves feel more comfortable and be more mobile day to day.
1. Sugary Foods  
Excess sugar is one of the leading causes of inflammation, and this is because it's proven to actually irritate various tissues throughout the body in certain quantities. Too much sugar consumption is also a leading cause of weight gain and obesity, which can place more strain on a joint already compromised by OA. Items like soda, candy, juices, and most pre-made sauces are usually packed to the brim with sugar, so largely cutting them out can be tremendously beneficial for those with OA.
2. Salty Foods  
A little salt can add flavor to pretty much any dish, but too much can exacerbate OA symptoms. Salt actually causes cells to retain water and have an inflammatory reaction. Rather than reaching for the saltshaker during meals, try other spices that don't cause inflammation, such as garlic powder, lemon zest, and black pepper. Be careful of "spice blends," however, as these tend to have salt as their main ingredient.
3. Fried Foods
Fried foods not only contain a lot of salt or sugar (like fried chicken versus a doughnut), but the oil used has also been shown to cause a chemical reaction within the body that increases inflammation.
Which Foods Are Good for OA?
You're probably already familiar with the foods most doctors would recommend for their patients with OA: grilled meats, lightly seasoned vegetables, and drinks like water and tea. Fortunately, a person with OA does NOT have to completely forgo their favorite foods…it's just recommended that they only enjoy sweet and salty treats occasionally. By having a diet that primarily includes non-inflammatory inducing foods, a person can keep their OA symptoms to a minimum so they experience less pain and enjoy more function.
But, what's important to remember is that a healthy diet shouldn't be relied on to treat OA all by itself. It's still wise to visit a doctor, follow their recommendations, and take medication as needed. With this multi-pronged approach, a patient can drastically reduce their symptoms and live their life without having to even think about their OA.
About the Author
Dr. Paul Tortland was among one of the first doctors in the northeast to use stem cell-based therapy to help patients dealing with various musculoskeletal problems, including OA. He is board-certified in both sports and regenerative medicine, and he can help patients dealing with OA get rid of their pain and recover full function without relying on strong medication or joint replacement surgery. To learn more about how he can help using the latest regenerative medicine, you can schedule a consultation with Dr. Tortland by clicking here.