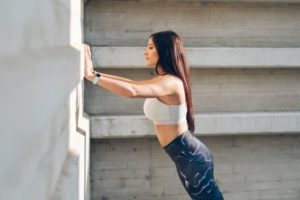 With thousands of gyms being closed around the country, working out at home has become the best option for most people to stay active and fit. One of the most popular exercises is also one of the simplest, the pushup. It offers many benefits, in that it can strengthen multiple muscles with one movement, improve balance, and requires no equipment. But, if you're concerned about your rotator cuff or have experienced an injury in the past, should you avoid pushups? Are they doing more harm than good? We share everything you need to know in today's blog.
The Rotator Cuff & Pushups
The rotator cuff is a group of four muscles and tendons that attach to the head of the shoulder and help it remain stable. As you can imagine, it's extremely important to being able to do a proper pushup. While regular pushups with the correct form pose little to no risk for the rotator cuff (given that you're not doing too many in a single set), there is always a possibility for injury, as there is with most exercises. So, the best way to prevent rotator cuff issues is to keep a few things in mind whenever you do pushups.
How to Do Pushups & Protect Your Rotator Cuff
Place your hands shoulder-width apart on the floor. Putting them too far outside the shoulders can result in injury.
Know your limits. If your shoulders start to hurt after doing a certain number of pushups, it's better to back off and try to work your way up to a certain number of reps rather than just pushing through.
Take your time. While some people try to do pushups as quickly as possible to get them over with, this can lead to improper form, which raises your risk for a rotator cuff injury.
What to Do if You Have a Rotator Cuff Injury
If you know that you have a rotator cuff problem, or even if you suspect one, it's best to avoid regular pushups for a while until you fully heal. In the meantime, wall pushups are a great alternative, as is doing pushups on an elevated surface like a counter or aerobic step. These versions might not require as much effort, but they still allow you to benefit from pushups while putting much less stress on your rotator cuff.
Rest should always be the first line of defense if you think something might be wrong with your rotator cuff, but if you find yourself dealing with shoulder pain, soreness, and stiffness for more than a week or so, it's time to see a doctor. Even a minor muscle or tendon tear can get worse if ignored, leading to problems that could put you on the shelf for weeks. By getting the proper attention early and modifying your routine as needed, you can continue to be active, stay healthy, and make sure your rotator cuff is in just as good a shape as the rest of you.
About the Author
Dr. Paul Tortland is dual board-certified in sports medicine and regenerative medicine. He completed his sports medicine fellowship at Sports Care/Toledo Hospital in Ohio, and he's able to help patients quickly get out of pain and heal from muscle tears using proven, non-invasive methods. If you suspect that you might have a rotator cuff injury, contact him today to schedule a consultation.