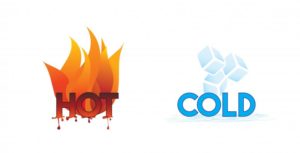 For millions of Americans dealing with osteoarthritis, the quickest and most convenient solution isn't to call their doctor or even take medication, but rather apply heat or cold to the afflicted joint. These methods have been used by doctors, patients, athletes, coaches, and trainers for decades, but a simple question remains: Is one better than the other? If you're hoping to relieve pain, reduce swelling, and improve mobility, should you go with heat or cold? We offer the definitive answer in today's blog.
And the Short Answer Is…
Fortunately, whether you've used hot or cold compresses over the years, research shows that both are effective for helping people suffering from osteoarthritis. When heat is applied to a joint, it causes the blood vessels to dilate, increasing blood flow to the area, which in turn can help with pain and inflammation. On the other side of the coin, cold causes the blood vessels to constrict and numbs the tissues, which can help with acute discomfort.
In the end, whichever one you choose, science shows that it can help soothe a troubled joint—it's mostly up to your preference. Whether you get your heat from a hot shower, warm washcloth, or heating pad doesn't matter as well. The same applies to using a bag of ice or frozen peas. The only thing to keep in mind is that either method should only be applied to the skin in 10-15 minute increments—any longer than that could potentially damage it.
Getting the Most Out of Heat & Cold
Often, using both heat and cold can be tremendously beneficial for those with osteoarthritis, particularly when it comes to exercise (which in itself can be tremendously helpful for the condition). One common approach is to apply heat to the joint to loosen up the muscles and increase blood flow before activity, exercise, and then use cold to prevent any swelling and pain afterward. This allows many patients to remain active without having to "pay the price" afterward.
When Heat & Cold Aren't Enough
Of course, it should be stated that neither heat or cold can help treat the underlying source of osteoarthritis—a loss of cartilage in the joint. They can just address the symptoms, but over time, the joint will continue to break down. In order to slow down this process and prevent it from affecting the functionality of a joint, daily heat or cold should be combined with professional care recommended by a doctor. Regenerative therapies like stem cell injections, PRP, and prolotherapy can dramatically improve the overall health of a joint and often help a patient avoid the need for invasive surgery down the line.
So in the end, heat and cold both offer a fast and easy way to deal with osteoarthritis symptoms—simply choose the one that works best for you. Just be sure to consult a doctor so you can protect and preserve your long-term health as well!
About the Author
Dr. Paul Tortland is board-certified in both sports medicine as well as regenerative medicine, and his clinic, the New England Stem Cell Institute, was one of the first in the nation to offer treatment using stem cells derived from a patient's own body fat and bone marrow. He has helped countless osteoarthritis patients get out of pain and reclaim their ability to move without resorting to surgery or medication, and you can learn more about what he could do for you by giving our Glastonbury office a call today.