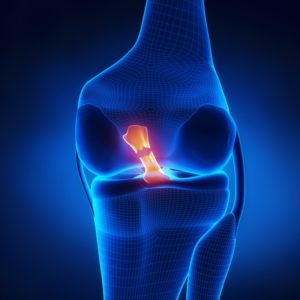 The human body is incredibly complex, and while this enables people to do some truly amazing things, it also means a lot can go wrong. When someone injures a joint, the pain, stiffness, and loss of flexibility can stem from several root causes, with one of the most common being a ligament issue. Medication can mask a ligament injury without actually helping it heal, and surgical repair for a chronic problem can be extremely expensive. Thankfully, prolotherapy offers a quick, effective, and non-invasive option that can provide relief and speed up someone's recovery at the same time.
A Quick Summary of Ligaments
Every joint is made up of a system that includes ligaments, tendons, muscles, nerves, bone, and cartilage. Both ligaments and tendons are considered to be "connective tissues," so it's easy to get them confused.
While tendons link muscles to bones, ligaments connect bones to other bones. A prime example is the MCL (medial collateral ligament) in the knee, which attaches the thigh bone to the shin bone, which is vital for the joint to function.
Prolotherapy & Ligament Injuries
Prolotherapy is an injectable treatment that uses a combination of dextrose (sugar) and Novocain. Once the solution is in the injured tissue, the sugar irritates it without causing damage, which catches the body's attention and forces it to "focus" on healing that particular area. This creates a minor inflammatory response, so the Novocain ensures the patient doesn't feel any discomfort as this happens.
After a few days, the lingering pain should start to go away, and not only that, but the source of the pain will start disappearing as well because the ligament is healing faster than normal.
It should be noted that while prolotherapy can help with ligament overuse injuries and minor tears, it is NOT recommended for complete tears—surgical intervention is usually the best treatment method in these cases.
Conditions That Can Be Helped with Prolotherapy
In practices across the country and around the world, prolotherapy has been used to successfully treat ligament injuries in the:
Spine
Knee
Shoulder
Elbow
Ankle/Foot
A long-term ligament injury can be frustrating, but with prolotherapy, you can improve your daily comfort while taking care of the problem long-term at the same time with the help of a few, well-placed injections.
About the Author
Dr. Paul Tortland has been a leading figure in the field of regenerative medicine for decades. As a double board-certified physician (regenerative medicine and sports medicine), he has literally helped thousands of athletes and everyday patients benefit from prolotherapy and other cutting-edge procedures. Here at the New England Stem Cell Institute, you can learn more about your options and get a care plan from Dr. Tortland just by scheduling a consultation today.