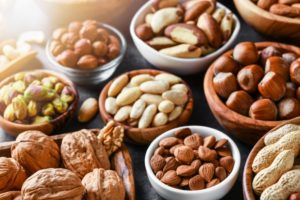 For people healing from injuries like a sprained ankle or partially/fully torn muscle, taking a little time to rest and relax can offer a nice break from the routine…at least initially. Things can quickly get boring, however, and one of the easiest ways to alleviate this is snacking. This can lead to its own set of problems, but fortunately, you can actually leverage your diet to make your recovery quicker and more comfortable. Just make sure your plate is regularly filled with the following items:
Bring on the Protein
Protein-rich foods like chicken, fish, beef, and other animal meats have gotten a lot of attention over the past few years because they are often recommended to help people build muscle. If you are recovering from a muscle injury, including a lot of lean protein in your diet will not only give your muscles the energy they require to mend, but this will also limit your muscle loss from being inactive. Plus, fish in particular is rich in Omega-3 fatty acids, which have been shown to help limit and reduce inflammation.
Low Sugar, High Fiber Snacks
Sitting around waiting to get better causes a lot of people to start idly snacking, most often on junk foods like potato chips and candy. This is why it's common for those recovering from injuries to gain weight, which can slow down the process and make resuming a normal activity level much more difficult.
Fortunately, there is a wide variety of healthy snacks available that are both low in sugar and high in fiber. Plain, unflavored nuts of all varieties are a good choice, so whether you like peanuts, cashews, almonds, or walnuts, you can be confident that you are snacking smart. Their lack of sugar will curtail weight gain, and their rich fiber content will help you feel fuller between meals, making it easy to avoid impulsive snacking.
Plenty of Water
One of the best tools to use while recovering is a refillable water bottle. Why? Not only does drinking plenty of water keep the body hydrated, which is essential for recovery, but it also makes people feel fuller. This limits mindless snacking and makes you less likely to drink sugary sodas and juices, but there is also another benefit. A properly hydrated person will likely need to go to the bathroom at least once an hour, and this regular movement can help someone avoid becoming too stiff from sitting around.
Of course, you shouldn't just rely on your diet if you have an injury—be sure to consult an orthopedic doctor as well. In addition to providing treatment, they can advise you on which food items should be enjoyed and avoided. That way, you can be confident that each bite is getting you closer to feeling like normal again.
About the Author
Dr. Paul Tortland is a Doctor of Orthopedics who is double board-certified in sports and regenerative medicine. In addition to offering state-of-the-art treatments like PRP therapy and stem cell injections, he can also give his patients personalized advice on what they can do day-to-day to help them get out of pain and recover as fast as possible. To learn more about how he can help you without relying on surgery or powerful pain medication, contact the New England Stem Cell Institute today.