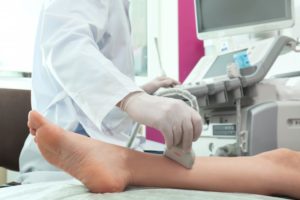 When you hear the word "ultrasound," what picture pops into your head? If you're like most people, it likely has something to do with expecting parents being able to see their child on a screen in a doctor's office. While this is the most popular use of ultrasound, it is also a big component of regenerative medicine. With it, a qualified doctor can diagnose and treat a wide variety of musculoskeletal injuries to improve daily function and stop chronic pain. How does it work? Find out about some of ultrasound's lesser-known applications here!
Therapeutic Ultrasound
Ultrasound gets its name from the fact that a device produces soundwaves that are beyond the range of human hearing. In addition to allowing doctors to create images of the inside of the body without X-rays (more on this below), certain frequencies have also been shown to effectively break up scar tissue, increase blood flow, and reduce pain and inflammation in joints. Physical therapists, chiropractors, and regenerative medicine doctors have been using ultrasound for years, and now, you can even get portable devices so you can benefit from this treatment whenever you like.
Diagnostic Ultrasound
One of the biggest advantages of ultrasound is that it enables doctors to look inside the body without exposing a patient to the radiation emitted by X-rays. This is why it is the only method used with pregnant mothers. With diagnostic ultrasound, a doctor has the ability to look inside a joint while it is in motion, making it easier to spot where a problem might be compared to a static image. A more accurate diagnosis can lead to a more effective treatment, which leads us to…
Ultrasound-Guided Injections
Corticosteroids, PRP, stem cells, and many other treatments are administered via injections. But, those injections are often done "blindly," in that the doctor can't see exactly where the needle is going inside the body, let alone where the medicinal substance is ending up. With ultrasound guidance, however, a doctor can pinpoint the location of an injection so that the medicine gets exactly where it is needed. Rather than just injecting someone's knee, for example, a doctor can reach the exact ligament or tendon that requires treatment.
All in all, ultrasound is effective, non-invasive, and has already been used to help millions of people recover from various injuries. It has enabled countless patients to reduce or get off of pain medication as well as avoid more complex/expensive treatments like surgery. If you're in pain, regenerative ultrasound might be exactly what you need, and it's easier than ever to find a doctor who offers it and schedule an appointment.
About the Author
Dr. Paul Tortland is dual board-certified in regenerative and sports medicine, and he has been a proponent and user of therapeutic and diagnostic ultrasound for years. All of the injections performed in his office are ultrasound-guided to ensure the most effective treatment possible. To learn how ultrasound could be used to treat your injury and even get a device you can use at home, contact the New England Stem Cell Institute today.