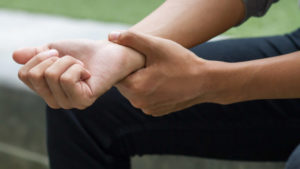 Millions of people around the world experience some kind of hand and wrist pain daily, but a very small number actually have Carpal Tunnel Syndrome. Everything from a bad fall to simply sleeping with your hand in an awkward position can lead to symptoms similar to CTS, but there are a few telltale signs that distinguish the condition. If any of the following sounds familiar, be sure to consult a doctor right away.
Pins & Needles
CTS is a nerve condition, in which the median nerve becomes compressed in the wrist by the muscles, ligaments, and tendons that surround it. This can create a distinct tingling sensation, commonly referred to as "pins and needles." This may be felt in the hand and wrist and even up into the forearm.
Pain & Stiffness in the First Three Fingers
Due to the anatomy of your hand and the path of the median nerve, pain and stiffness caused by CTS primarily appears in the thumb, index, and middle fingers. If you're feeling pain distinctly in your pinky or fourth finger, then CTS is likely not the cause.
Pain That Comes & Goes
Typically, CTS is brought on by repetitive motion, whether it's associated with someone's job or sports. If a patient doesn't engage in the activity that brought on their CTS in the first place, then they may experience less pain and stiffness. Unfortunately, it will come back once the activity is resumed.
Numbness/Loss of Grip
Numbness and weakness in the thumb, fingers, or both are also common symptoms of CTS. Do you find yourself dropping things more often or struggling with fine movements like fastening a button or using a zipper? If this occurs in conjunction with the other issues listed above, then CTS is likely the culprit.
Don't Ignore CTS
Over time, these symptoms will only become worse, and the pain and stiffness can eventually travel up the arm and even into the neck in some cases. CTS is relatively easy to treat when detected early, allowing patients to get the care they need without having to disturb their routine or take time off for surgery. Even if just one or two of these symptoms apply to you, reaching out to a doctor, particularly one with experience in regenerative medicine, can help you improve your daily function and comfort so the last thing you ever have to worry about is hand and wrist pain.
About the Author
Dr. Paul Tortland is a board-certified specialist in Regenerative Medicine and Sports Medicine who has been serving the Glastonbury community for decades. Combining traditional osteopathic medicine with state-of-the-art regenerative medicine techniques, he can help patients identify exactly what is causing their pain and then treat it directly (as opposed to just managing symptoms). He has helped countless people overcome Carpal Tunnel Syndrome without surgery or medication, and he can do the same for you. To get started, he can be contacted through his website.