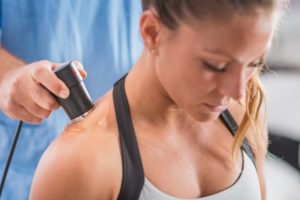 When you hear the word "ultrasound," you probably think about the diagnostic tool that is commonly used in medical settings. But did you know that there is another type of ultrasound? Therapeutic ultrasound can play a role in helping you recover from soft tissue injuries. It is also effective at relieving chronic pain. Read on below to learn more about it.
What Can Therapeutic Ultrasound Treat?
Therapeutic ultrasound may be used for acute conditions, such as injuries caused by accidents or during sports. It may also be helpful for individuals with ongoing conditions that adversely affect their daily quality of life.
Here are some examples of specific problems that may be lessened via the use of therapeutic ultrasound:
Tendonitis
Ligament injuries
Joint tightness
Muscle pain
Carpal tunnel syndrome
Various types of shoulder pain, including frozen shoulder (loss of range of motion in the shoulder)
Neck pain
Chronic back pain
Nerve pain
Bursitis (an inflammatory joint condition)
Osteoarthritis
And more!
Who Can Benefit from Therapeutic Ultrasound?
If you struggle with any of the above-listed conditions, you should schedule a consultation with a qualified physician in order to find out whether therapeutic ultrasound could benefit you. After a thorough evaluation, your doctor might recommend that it be incorporated into your overall treatment plan, which may include things like certain exercises, regenerative medicine treatments, and more.
Generally speaking, therapeutic ultrasound is quite safe and well-tolerated. For most people, it feels like a warm massage. It sometimes also comes with a tingling sensation. Overall, it is quite comfortable. Rarely, though, patients experience discomfort and other side effects.
How Does Therapeutic Ultrasound Work?
Therapeutic ultrasound employs the power of sound waves. Although the waves are outside the range of human hearing, they can still have a strong, positive effect on the body. For example, they can raise the temperature of bodily tissues, resulting in increased blood flow. The blood carries nutrients and other important substances to the damaged area, thereby promoting healing.
Ultrasound can also use vibrations to instigate cavitation. Cavitation involves the creation of tiny gas bubbles within the body that quickly expand and contract. This action is believed to break up scar tissue and encourage damaged areas to heal as efficiently as possible.
Typically, physical therapists may apply ultrasound to a patient's pained areas for 10 minutes or so. However, that is often not enough to provide optimum relief. Some physicians offer a take-home FDA-approved device that can deliver up to 4 hours of therapy at a single time.
Countless people struggle with injuries and chronic pain. For many of them, therapeutic ultrasound could be the key to enjoying a more comfortable life!
Meet the Doctor
Dr. Paul Tortland is a Doctor of Osteopathic Medicine who is board-certified in Regenerative Medicine and Sports Medicine. At-home therapeutic ultrasound is one of the many treatments available in his practice. To learn more about him and his services, contact the New England Stem Cell Institute at 860-430-2821.