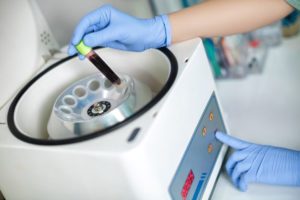 The human body is a remarkable creation. It has the ability to heal itself from a wide range of injuries and diseases. However, sometimes it needs a little help to reach its full healing potential. That is where regenerative medicine comes into the picture. In many cases, PRP is used to help patients find relief from painful conditions. What is PRP, and how can PRP heal your body? This blog post explains the answers.
An Introduction to Platelet-Rich Plasma
Whole blood has four main components: white blood cells, red blood cells, plasma, and platelets. Each of these plays a critical role within the human body. The plasma is the liquid portion of the blood that helps to transport the red cells, white cells, and platelets. The platelets play a critical role in blood clotting. They are also important for the body's overall healing functions.
Platelet-rich plasma is derived from a patient's own blood. Basically, your medical team extracts one or more tubes of blood and places it in a centrifuge to separate its components. The plasma, which has a high concentration of platelets, is then injected at the site of damaged tissue.
Precise Injections Encourage Healing
Once PRP is injected into the body, it encourages growth factors and healing factors to increase at the site of damaged tissue. It is therefore able to speed up the body's ability to heal itself, providing pain relief and other benefits.
Of course, for PRP to be effective, it must be injected at the right location. That is why trustworthy doctors who offer PRP use technology, usually ultrasound, to guide them as they inject the PRP.
What Are the Benefits of PRP?
PRP offers some outstanding benefits, including:
It can reduce the need for other treatments. Often, patients who receive PRP injections have a reduced need for pain-relieving medications, such as anti-inflammatories and opioids.
Side effects are virtually nonexistent. Since PRP is derived from a patient's own blood, there is virtually no chance that you will have an adverse reaction to it.
It can address a variety of conditions. PRP has been shown to be effective in helping patients with a wide range of musculoskeletal conditions. For example, it may reduce osteoarthritis pain, encourage healing from sprains and strains, relieve back and neck aches, treat plantar fasciitis, and more.
It can provide fast results. Many patients notice benefits after just one set of PRP injections, whereas others require multiple appointments spaced about one month apart.
PRP is a powerful form of regenerative medicine. It could heal your body and improve your quality of life!
Meet the Practice
Dr. Paul Tortland is a Doctor of Osteopathic Medicine who is a leader in the field of regenerative medicine. He uses advanced techniques to offer customized PRP therapy to patients from Glastonbury and the surrounding communities. To learn more about how he and our team may be able to serve you, contact the New England Stem Cell Institute at 860-430-2821.