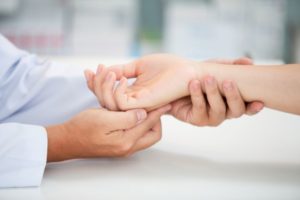 The term "nerve hydrodissection" can sound a little scary, but it actually refers to a comfortable and effective method for addressing nerve pain. In fact, if you suffer from symptoms like pain, tingling, and numbness, you might have a condition that can be addressed via nerve hydrodissection in Glastonbury. What exactly is this treatment, and what are some specific problems that it can be used for? Read on below to discover the answers.
Nerve Hydrodissection: The Basics
Nerve hydrodissection is designed to relieve nerve compression syndrome, which is also known as compression neuropathy, nerve entrapment syndrome, or trapped nerves. However you refer to this problem, it occurs when joints or other tissues put pressure on peripheral nerves (nerves outside of the brain and spinal cord). That pressure, in turn, can cause a range of symptoms, such as tingling, numbness, muscle weakness, and burning pain.
In the past, surgery was frequently used to free trapped nerves. In recent times, however, nerve hydrodissection, a nonsurgical alternative, has become more popular. It involves the use of precise, ultrasound-guided injections of a fluid (typically water mixed with a little dextrose) to place a sort of cushion between a trapped nerve and the tissue that is putting pressure on it. The result is significant symptom relief.
What Can Nerve Hydrodissection Treat?
Nerve entrapment can afflict virtually any peripheral nerve. Here are some common conditions that nerve hydrodissection may be used to treat:
Carpal tunnel syndrome: A pinched nerve in the wrist
Thoracic outlet syndrome: Entrapped nerves between the collarbone and first rib
Radial nerve or posterior interosseous nerve (PIN) entrapment: Entrapment of the nerve that runs from the armpit to the wrist or one of its branches
Pronator teres syndrome: Entrapment of one of the arm's main nerves by a muscle
Cubital tunnel syndrome: Inflammation and entrapment of the ulnar nerve on the inside of the elbow
Meralgia paresthetica: Compression of the lateral femoral cutaneous nerve, a nerve in the leg that exits from the pelvis and operates in the outer side of the thigh
Piriformis syndrome: Irritation of the sciatic nerve by a muscle in the buttock
Peroneal nerve entrapment syndrome: Entrapment of the peroneal nerve, which begins below the knee and can cause pain in the top of the foot
Tarsal tunnel syndrome: Compression of the posterior tibial nerve, which can cause significant ankle pain
Morton's neuroma: A thickening of tissue around a nerve leading to the toes
Scar neuropathy: Peripheral nerve injuries caused by scar tissue
If you have been diagnosed with any of the above conditions, or you suspect you have them, it is certainly worth your time to ask an experienced orthopedic physician whether nerve hydrodissection might be able to help you. It may bring significant pain relief and allow you to avoid the need for surgery!
Meet the Practice
Dr. Paul Tortland is an experienced Doctor of Osteopathic Medicine in Glastonbury. He and our team are highly experienced with nerve hydrodissection — in fact, we were one of the first practices in the U.S. to offer it! To learn more about this treatment and how it may be able to benefit you, contact us at 860-430-2821.