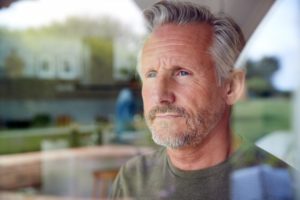 One of the key elements of osteoarthritis (OA) is that it is a degenerative condition, which essentially means that it will not go away on its own. Once a joint starts to lose cartilage because of OA, the only way to stop it is with joint replacement surgery. To avoid this invasive procedure, most patients opt to preserve the health of the joint with more conservative methods. But on a long enough timeline, can OA ultimately cripple you and leave you unable to move? This is a common worry among patients, and one that is going to be addressed directly in today's blog.  
The Long-Term Risks of Osteoarthritis
On a long enough timeline, without treatment, it is possible for osteoarthritis to render a joint basically immobile, but it typically takes many years to get to this point. This means there is ample opportunity for intervention. It's never a case of a person with OA waking up one day and suddenly not being able to move their knee, elbow, or shoulder, etc.
If the condition is ignored or goes undiagnosed, the pain, stiffness, and swelling can progress to the point that someone simply avoids using the joint entirely because it is so uncomfortable. The joint itself may be minimally functional despite being severely damaged. Even those with advanced OA in the lower half of their body can usually walk with assistance. People with shoulder or elbow OA maintain the use of their arm even though it is quite compromised.
So, while the long-term effects of OA certainly aren't pleasant, a complete loss of function is very rare, especially considering all of the modern treatments available that have been shown to dramatically slow the degradation process and protect joints.
How to Preserve Your Joints
If you're worried about your OA becoming worse over time, this is a very reasonable concern, but you likely have a chance to do something that can greatly reduce your pain, improve your mobility, and give you many more years of healthy living and movement.
Firstly, it's important to keep the rest of your body strong through regular exercise and a balanced diet. By maintaining a healthy weight and strengthening the body, particularly the muscles adjacent to a joint with OA, a person can lower their inflammation and give their joint much-needed support.
And of course, it is also vital to visit a doctor who can put you on a long-term treatment plan. OA responds very well to conservative measures like heat, rest, and bracing, and there have also been big breakthroughs in the field of regenerative medicine over the past few decades. With treatments like prolotherapy, PRP, or stem cell therapy, a doctor can simply inject a therapeutic substance into a distressed joint that kickstarts and focuses the body's ability to heal.
While there is no treatment available today that can stop the loss of joint cartilage due to OA (other than surgery), regenerative techniques can greatly slow the process and create a much healthier environment in the joint so that the other tissues remain strong and intact. This results in better function, less pain, and best of all, peace of mind for many patients.
About the Author
Dr. Paul Tortland is dual board-certified in both sports and regenerative medicine, and he has literally helped thousands of patients take control of their OA and get their lives back. At his practice, the New England Stem Cell Institute, he uses both traditional orthopedic care as well as cutting-edge regenerative medicine to provide personalized treatment that consistently delivers dramatic results. If you have OA and want to learn more about what he could do for you, schedule a consultation today by clicking here.