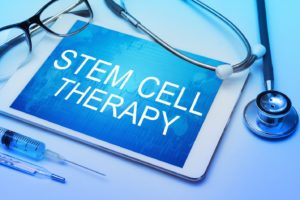 "Spondylitis" is an umbrella term that covers a number of different conditions, all of which adversely affect the spine and pelvis. These problems can cause stiffness, pain, loss of mobility, and other symptoms that can significantly affect a person's quality of life. There are a number of conventional treatments that are commonly used to manage spondylitis. However, many patients inadvertently overlook stem cell therapy as a possible way to find relief. This blog post talks more about how stem cells can help people who suffer from spondylitis.
What Is Stem Cell Therapy?
Stem cells have the potential to turn into other types of cells. They also serve as messengers in the body that coordinate the activity of other cells. It is this messenger function that makes stem cell therapy so effective.
During treatment, stem cells are harvested from a patient's own body — either from their bone marrow or fatty tissue. The cells are then injected into another part of the body that is in need of help to heal. The newly introduced stem cells signal other cells to come and make repairs to damaged tissues, resulting in a reduction in pain and other unpleasant symptoms in the targeted area.
Stem Cell Therapy for Spondylitis
Some types of spondylitis are incurable. However, they are manageable. With diligent treatment, many patients with spondylitis are able to enjoy relatively normal, pain-free lives.
Stem cell therapy has shown promise as a way to address different forms of spondylitis. For example, it has been successfully used to help patients with ankylosing spondylitis. It has the potential to reduce inflammation and pain, optimize joint function, and prevent joint deformity.
When you visit an osteopathic doctor who offers stem cell therapy, they can evaluate your situation and let you know whether stem cell treatment may work for you. For many patients, it can be a valuable way to delay spine surgery or even avoid the need for it altogether.
What to Expect with Stem Cell Therapy
Stem cell therapy is a fast and minimally invasive process. Depending on whether the cells will be harvested from your bone marrow or adipose (fat) tissue, the entire treatment may take anywhere from 15 minutes to slightly over an hour.
Once the cells are harvested, they will be strategically injected with the help of an ultrasound or fluoroscopic X-Ray. These advanced technologies help your medical team ensure that the stem cells are going exactly where they will do the most good.
Following treatment, you may begin to notice results within a few weeks.
Spondylitis is a complex group of conditions. Fortunately, there are some advanced therapies that can help patients find pain relief and enjoy a higher quality of life. Stem cell therapy might be just what you need to feel your best!
Meet the Practice
Dr. Paul Tortland is an experienced osteopathic physician. He was the first doctor in New England to offer stem cell-based treatments. Today, he continues to use such treatments to help patients manage a wide range of conditions, including different types of spondylitis. To learn more about Dr. Tortland and the services available in our practice, contact us at 860-430-2821.