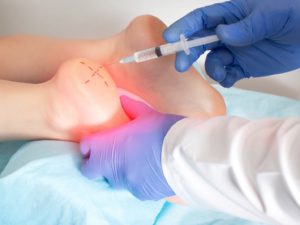 Do you often experience a sharp, stabbing sensation in your heel? It is possible that you have plantar fasciitis, a painful condition that occurs when the main ligament in the foot suffers from overuse and micro-tears. Conventional treatments for this problem include things like pain medications, stretching, and rest. For many people, such methods can provide a degree of relief. But what if your pain is persistent? Prolotherapy might be able to help you heal. This blog post discusses what prolotherapy is and how it can encourage your body to bounce back from plantar fasciitis.
What Is Prolotherapy?
During a prolotherapy session, a doctor injects a mild irritant into a damaged tendon, ligament, or joint. In most cases, the irritant is dextrose, a form of sugar, and it is typically mixed with a local anesthetic. The dextrose does not harm the tissues that it is introduced to. Rather, it simply alerts your body that something is wrong. It thereby instigates an inflammatory response and jumpstarts your body's natural healing processes.
Prolotherapy and Plantar Fasciitis
A randomized-controlled study published in 2017 shed light on prolotherapy's effectiveness for addressing plantar fasciitis. Participants were divided into two groups. Individuals in the control group were given instructions to perform strategic stretching three times a week, while the prolotherapy group received prolotherapy treatment every 21 days.
At the end of the study, both groups saw significant improvements in their plantar fasciitis symptoms. However, improvements were larger in the prolotherapy group.
What to Expect with Prolotherapy for Plantar Fasciitis
If you want to find out whether prolotherapy may be able to treat your plantar fasciitis, schedule an appointment with a qualified nonsurgical osteopathic physician. If they determine prolotherapy could help you, you will receive the appropriate number of injections.
Keep in mind that some additional soreness is to be expected at the site of the injections; that is a normal part of the body's healing process. You should avoid taking anti-inflammatory medicines because although they might provide temporary relief, they can ultimately slow down your journey to recovery. Most patients notice significant improvement in their symptoms about 4 – 6 weeks after getting started with prolotherapy. In the meantime, you should avoid doing anything that might exacerbate your condition, such as vigorous, weight-bearing physical activity.
Prolotherapy may be most effective when it is combined with other regenerative medicine treatments. For example, your doctor might recommend that you regularly stretch your ligaments or that you undergo platelet-rich plasma (PRP) therapy.
Plantar fasciitis can be a painful problem that adversely affects your quality of life. Fortunately, prolotherapy may be able to help you heal!
Meet the Practice
Under the leadership of Dr. Paul Tortland, the New England Stem Cell Institute has been offering prolotherapy for many years. In fact, we were one of the first practices in New England to adopt it! We have seen it change the lives of countless patients. If you are interested in learning more about it, we are ready to answer your questions. Contact us at 860-430-2821.