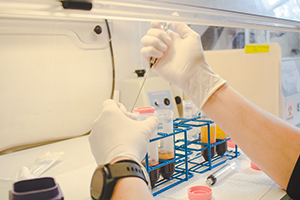 Are Amniotic Fluid products "stem cell" products?
In short, NO!
A new study, published in the March 9, 2019 issue of the American Journal of Sports Medicine, seven commercial companies that provide amniotic fluid products (AFPs) were invited to participate in the study. Only 3 companies (the manufacturers of PalinGen®, FloGraft®, and Genesis® AFPs) agreed to participate and donated AFPs for analysis. The AFPs were evaluated for the presence of mesenchymal stem cells (MSCs) and for various growth factors relevant to orthopedics.
The results showed that MSCs could not be identified in the commercial AFPs or the unprocessed amniotic fluid. MSCs WERE cultured from bone marrow aspirates (control group). Nucleated cells were found in 2 products (PalinGen and FloGraft), but most of these cells were dead. The few living cells that were found did not exhibit established characteristics of MSCs. However, growth factors were present in all products at varying levels.
BOTTOM LINE: Amniotic Fluid Products should NOT be considered "stem cell" therapies. This is important because an increasing number of "stem cell" clinics are popping up, offering "stem cell" treatments using AFPs. This is both deceitful and fraudulent. While these products DO contain some useful growth factors and they can play a role in regenerative medicine treatment, they are NOT "stem cell" treatments, and patients should use caution when considering receiving "stem cell" treatments from such clinics.
At the New England Stem Cell Institute our stem cells come ONLY from YOUR BODY! We adhere to the highest ethical standards as set forth by the Orthobiologic Ethics Consortium, to which were an original signatory.